Objectives
●To enhance sustainable rural livelihood;
●To promote sustainable utilization of arable agriculture land; and 
●To enhance food security and food self sufficiency.
Staff Strength
19 Staff
1 DAO, 1

 ADAO, D

ata Manager (extension supervisor)

14

gewog

extension supervisors

2 CMU M

achine Operators
12 FYP Outlay
Agriculture production enhanced- 50 million
The program support production of cereals, oilseeds & pulses, vegetables, fruits & nuts, maps, potato and mushroom
Organic agriculture promoted – 5.6 million
The program supports organic farming and production
Agriculture infrastructure developed – 104 million
The program supports
Agriculture land development & fallow land revival

Development of marketing facilities

Electric fencing system

Construction & maintenance of irrigation schemes

Construction & maintenance of RNR

 C

entres

& facilities
STATUS OF CURRENT FY PLAN (2020-2021)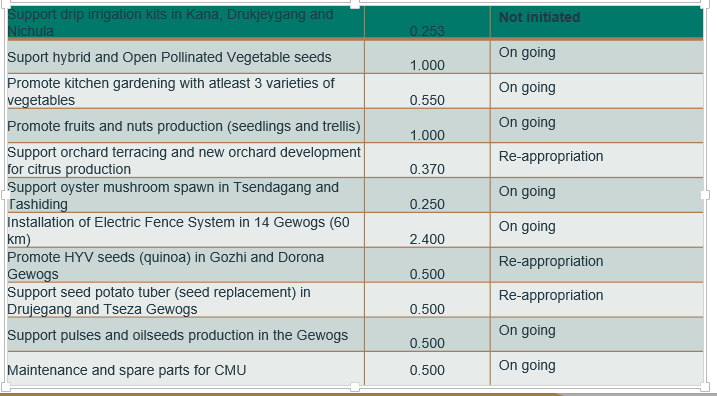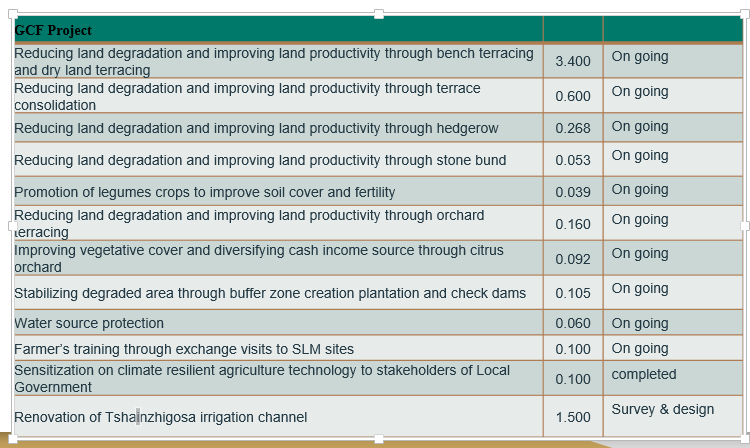 CENTRAL ACTIVITIES
Economic contingency plan – 11.700 million
Protected agriculture farming; and

Enhance production of selected vegetables crops (tomato,

chilli

, cauliflower, onion)
FLAGSHIP/PROJECTS
Food Security and Agriculture Productivity Project (FSAPP)
Project period 2017-2022
Strengthening farmer and producer groups;

Enhancing farmer productivity; and 

Enhancing access to markets.
CLIMATE FUND (GCF)
Green Climate Fund (GCF)
Project Period 2020-2025
Promote resilient agricultural practices in the face of changing climate patterns;

Integrate climate change risks into water and land management practices that affect smallholders; and 

Reduce the risk and impact of climate change induced landslides during extreme events that disrupt market access.
Integrated Horticulture Promotion Project (IHPP-JICA)
Project Period 2016-2021
Horticulture production expanded with appropriate technologies.
****************************************************************************************************************
AGRICULTURE SECTOR'S PRIORITY & APPROACHES